Implementation Steps in this Guide
Allow Managers to Start the Job Requisition Form
Review the Process Workflow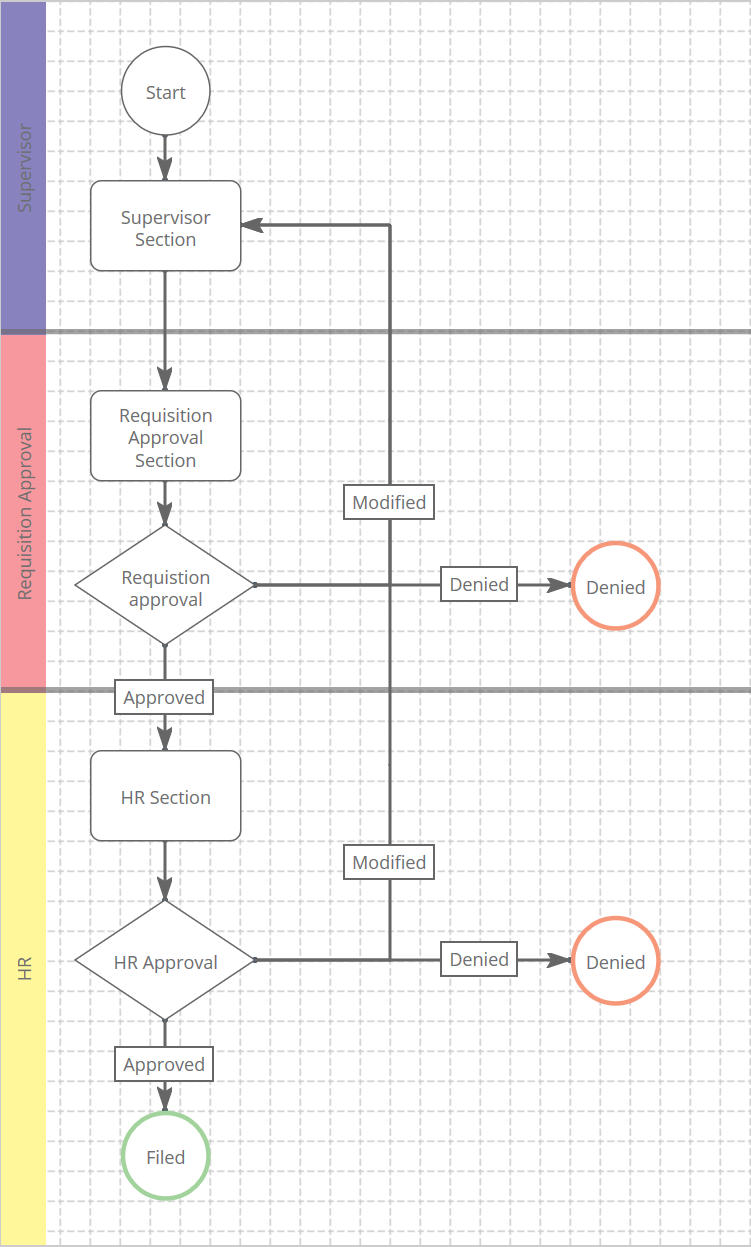 Set the form routing:
Click on the Admin tab
Click on Workflow/Forms subtab
Click on Processes
Search for and click on Job Requisition Form
Edit the routing rules for each stage by following these suggestions:



| | | |
| --- | --- | --- |
| Stage | Suggested Routing Rule | Description |
| Supervisor Section | Creator | Route to the "Creator" (i.e. the person who started the form) |
| Requisition Approval Section | Queue or Supervisory Level | Route to a queue or to a Supervisory Level that can approve this requisition |
| HR Section | Queue | Route to a queue that contains your Human Resources group, or equivalent |
Set the Activity to be startable by All Employees
Click on the Workspaces tab
Click on the Human Resources workspace
Click on the Hiring initiative
Click on the Job Requisition Form
Click Groups and assign your Manager Level(s) (or another set of group as appropriate) within the "In Start Menu" for section. 
Click Save
Schedule the Hiring Legally Training
Title
Duration (Minutes)
Type
Description
Hiring Legally Training
30
Course

As a manager, it is essential to use recruitment strategies that attract the right candidates. But just as important is the avoidance of discrimination, both intentional and unintentional. In this course, you will learn about the Equal Employment Opportunity laws that guide your employer's recruiting efforts and how to help ensure your hiring practices are fair and lawful.

This course was developed with subject matter support provided by the Labor, Employment, and Employee Benefits Law Group of the law firm of Sheehan Phinney Bass + Green PA. 
Click on the Workspaces tab
Click on the Human Resources workspace
Click on the Hiring initiative
Click on the Hiring Legally Training
Click on Groups and assign to the appropriate groups, such as your Manager Groups
Click on Schedule and set a one-time schedule based on the Hire Date. 
Click Save
Schedule the How to Conduct New Employee Orientation Training
| | | | |
| --- | --- | --- | --- |
| Title | Duration (Minutes) | Type | Description |
| How to Conduct New Employee Orientation Training | 60 | Course | Rolling out an onboarding strategy can help your organization create more engaged new employees and help them embrace your company culture. This, in turn, helps reduce turnover rates and can have a positive impact on your bottom line. But where should you start with your onboarding program? If you think the process seems overwhelming, you're not alone. This course introduces actions you can take before the new hire arrives. It then considers the activities that should take place in the ensuing days, weeks, and months. It is the manager – not HR – who's responsible for the onboarding program and who can make or break the process. To that end, the course provides tips for how the manager can best embrace the process and be aware of the challenges it involves. The buddy system, a valuable part of the onboarding program, is explained in detail. |
Click on the Workspaces tab
Click on the Human Resources workspace
Click on the Hiring initiative
Click on the How to Conduct New Employee Orientation Training
Click on Groups and assign to the appropriate groups, such as your Manager Groups
Click on Schedule and set a one-time schedule based on the Hire Date. 
Click Save
Schedule the Job Descriptions - How to Write Them Effectively Training
| | | | |
| --- | --- | --- | --- |
| Title | Duration (Minutes) | Type | Description |
| Job Descriptions - How to Write Them Effectively Training | 6 | Course | Job descriptions serve as an essential tool for recruiting potential employees. This Impact examines the criteria for drafting a compelling job description. |
Click on the Workspaces tab
Click on the Human Resources workspace
Click on the Hiring initiative
Click on the Job Descriptions - How to Write Them Effectively Training
Click on Groups and assign to the appropriate groups, such as your Manager Groups
Click on Schedule and set a one-time schedule based on the Hire Date. 
Click Save
Schedule the Interviewing Skills for Supervisors Training
| | | | |
| --- | --- | --- | --- |
| Title | Duration (Minutes) | Type | Description |
| Interviewing Skills for Supervisors Training | 6 | Course | Most organizations rely on the job interview as the primary tool for selecting which employees to hire. This impact explores how to use four common interview questioning techniques. |
Click on the Workspaces tab
Click on the Human Resources workspace
Click on the Hiring initiative
Click on the Interviewing Skills for Supervisors Training
Click on Groups and assign to the appropriate groups, such as your Manager Groups
Click on Schedule and set a one-time schedule based on the Hire Date. 
Click Save